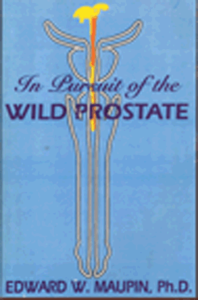 A personal account of prostate hypertrophy, surgery, and the philosophy of mind and matter. (Maupin, 1996)
Contents
When Psychologist-Rolfer Edward Maupin realized he faced an operation for enlarged prostate, he undertook every alternative method he knew - diet, supplements, meditation and exercise - to stave it off. Eventually he had operation, but discovered that what he had done to prepare enabled him to snap back to his sense of physical integrity almost immediately.
More than just a personal account, this is a thoughtful reflection about scientific medicine and intuitive body awareness - and how they can fit together in a new and complementary partnership.
It's also a "how to" book - with powerful walking meditations, exercises to strengthen the legs and pelvis, and ancient techniques to transform sexual energy into enhanced awareness. All in a dryly humorous style.
This book is no longer available in print, and there is digital version.